946 Customs

Sales Hours
(866) 839-9889
| | |
| --- | --- |
| Monday | 8:00 am - 6:00 pm |
| Tuesday | 8:00 am - 6:00 pm |
| Wednesday | 8:00 am - 6:00 pm |
| Thursday | 8:00 am - 9:00 pm |
| Friday | 8:00 am - 6:00 pm |
| Saturday | 8:00 am - 6:00 pm |
| Sunday | Closed |

Parts Hours
(306) 946-3336
| | |
| --- | --- |
| Monday | 8:00 am - 6:00 pm |
| Tuesday | 8:00 am - 6:00 pm |
| Wednesday | 8:00 am - 6:00 pm |
| Thursday | 8:00 am - 6:00 pm |
| Friday | 8:00 am - 6:00 pm |
| Saturday | 8:30 am - 5:30 pm |
| Sunday | Closed |
Customization is All About Option
946 Customs at Watrous Mainline has the options that will fit your needs, style, and budget. If you are looking to purchase a new vehicle, check out our selection of in-stock custom and modified trucks. We can also help you dress up any one of our new or pre-owned trucks. If your current truck needs some improvements, we offer a wide variety of customization options from spray-on bedliners to chrome details to tires and rims. It's your truck, now make it look like your truck.
Not sure where to start?
Check out our gallery of customized and modified trucks below.
Customized Trucks For Sale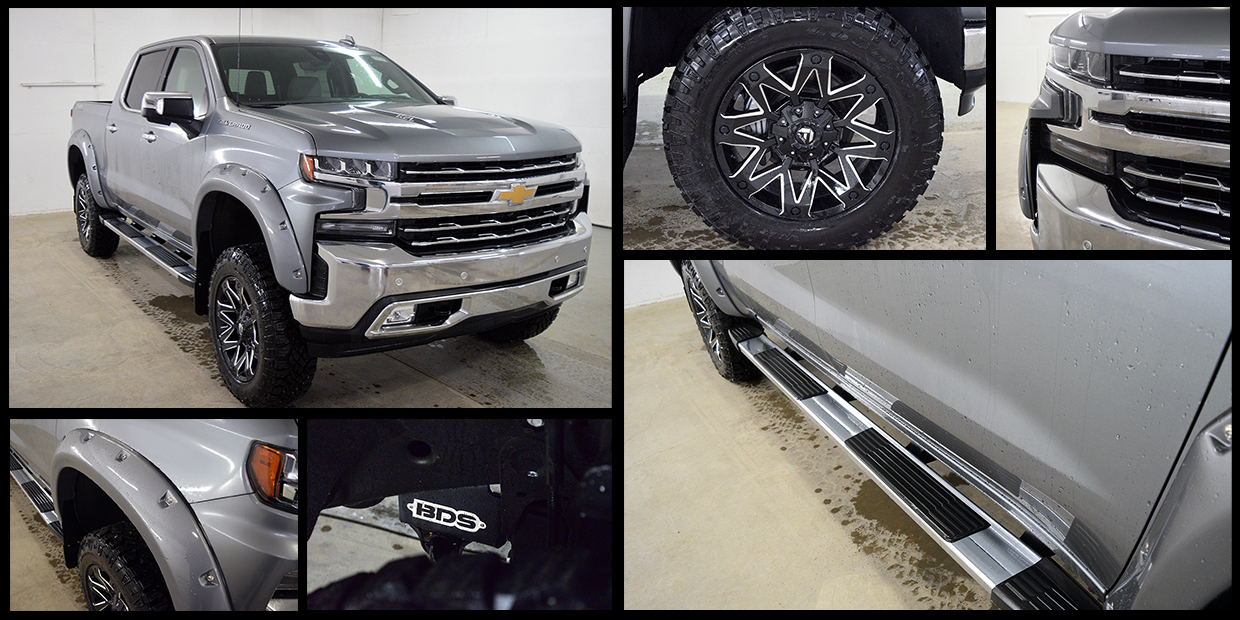 NEW 2019 Chevrolet Silverado 1500 LTZ
---
• Bushwacker Pocket Style Flares
• Black Cloud Rider Flaps
• Goodyear Duratrac Tires
• Fuel Ambush Rims
• 6" BDS Lift Kit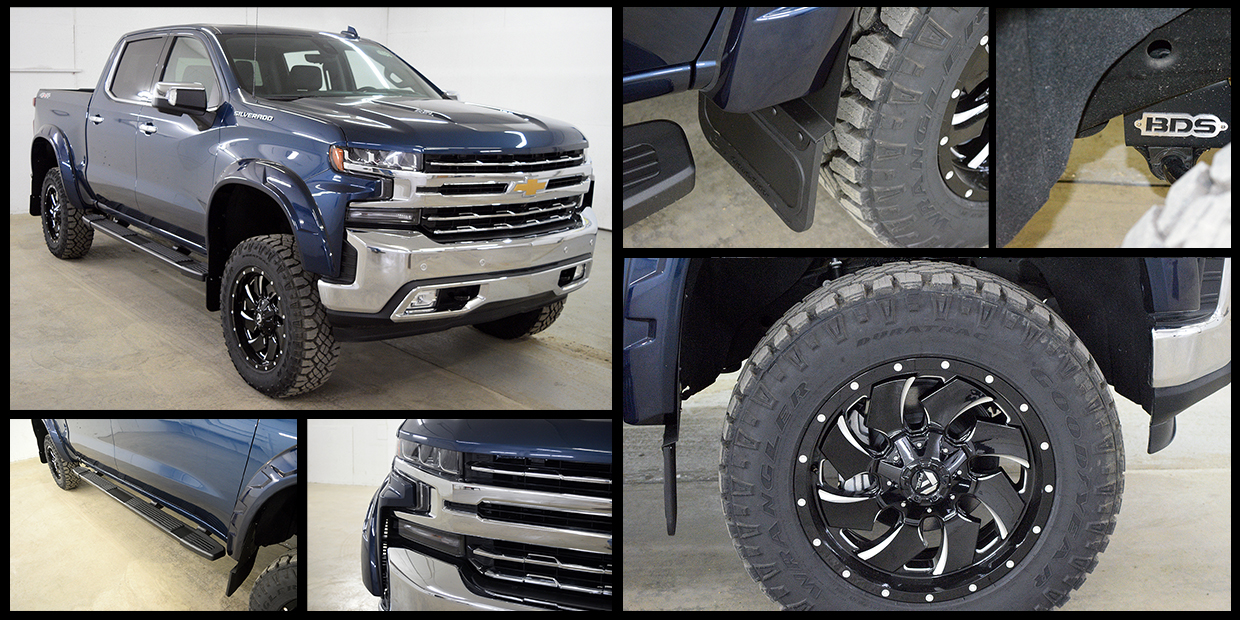 NEW 2019 Chevrolet Silverado 1500 LTZ
---
• Bushwacker DRT Fender Flares
• Black Cloud Rider Flaps
• Goodyear Duratrac Tires
• Fuel Cleaver Rims
• 6" BDS Lift Kit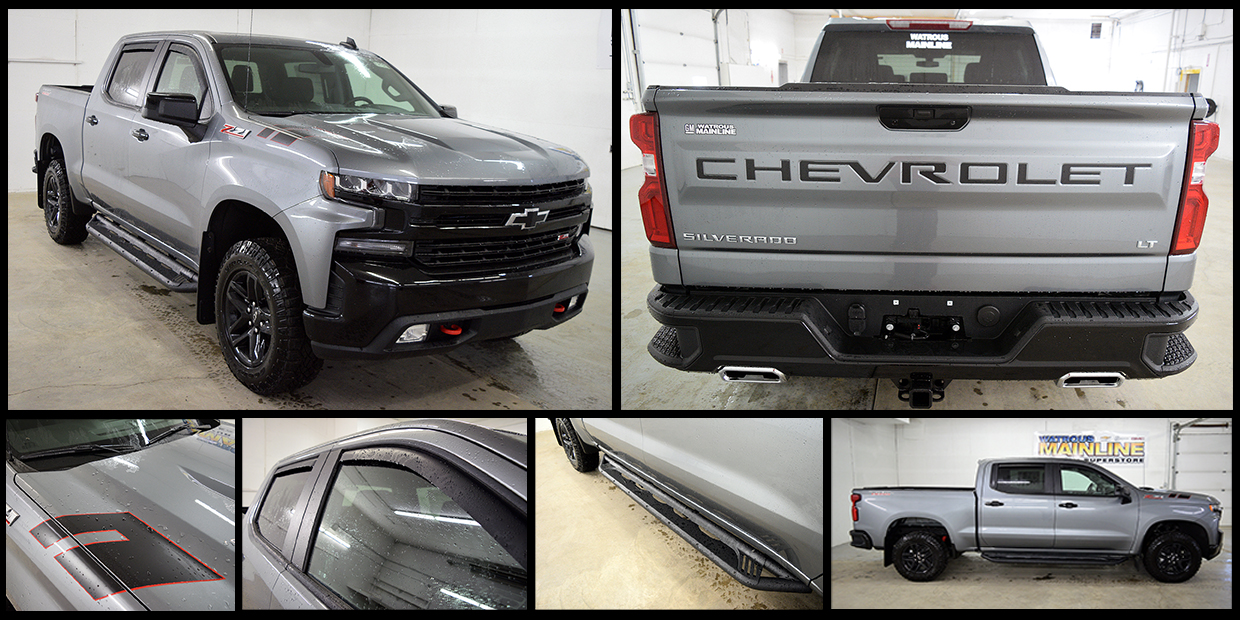 NEW 2019 Chevrolet Silverado 1500 LT Trail Boss
---
• Gatorback Flaps
• Nerf off road step bars
• Vent visors
• Custom Hash Mark hood decals
• Custom Tailgate decals
Customized Trucks Gallery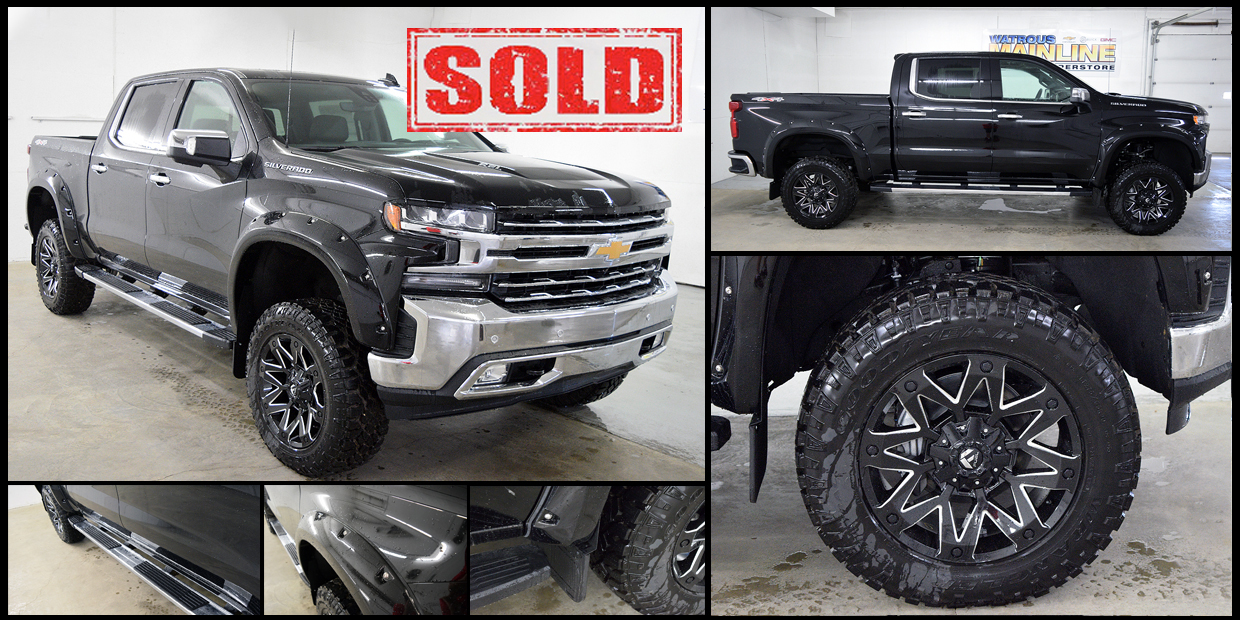 2019 Chevrolet Silverado 1500 LTZ
---
• 6" lift kit
• Fuel ambush rims
• Goodyear Wrangler Duratrac tires
• Gatorback flaps
• Bushwacker painted fender flares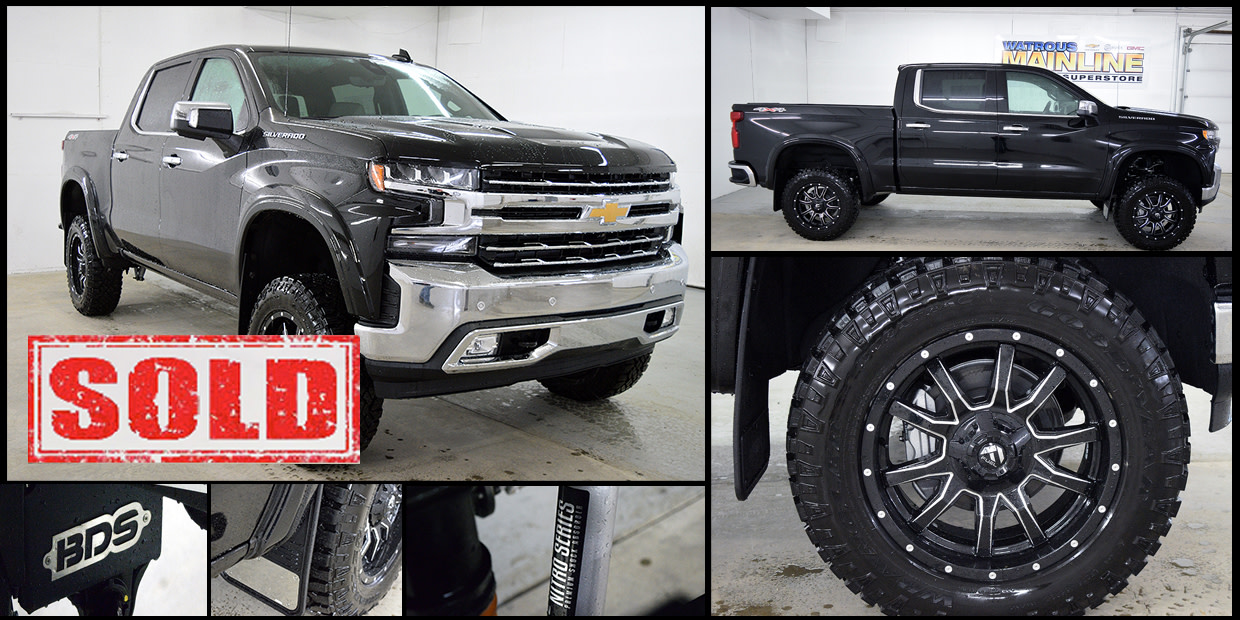 2019 Chev Silverado 1500LT
---
• 6" BDS Lift
• Fuel Vandal Rims
• Goodyear Wrangler Duratrac Tires
• Gatorback Flaps
• Painter Fender Flares
• Xpel paint protection hood, fenders and door sills
---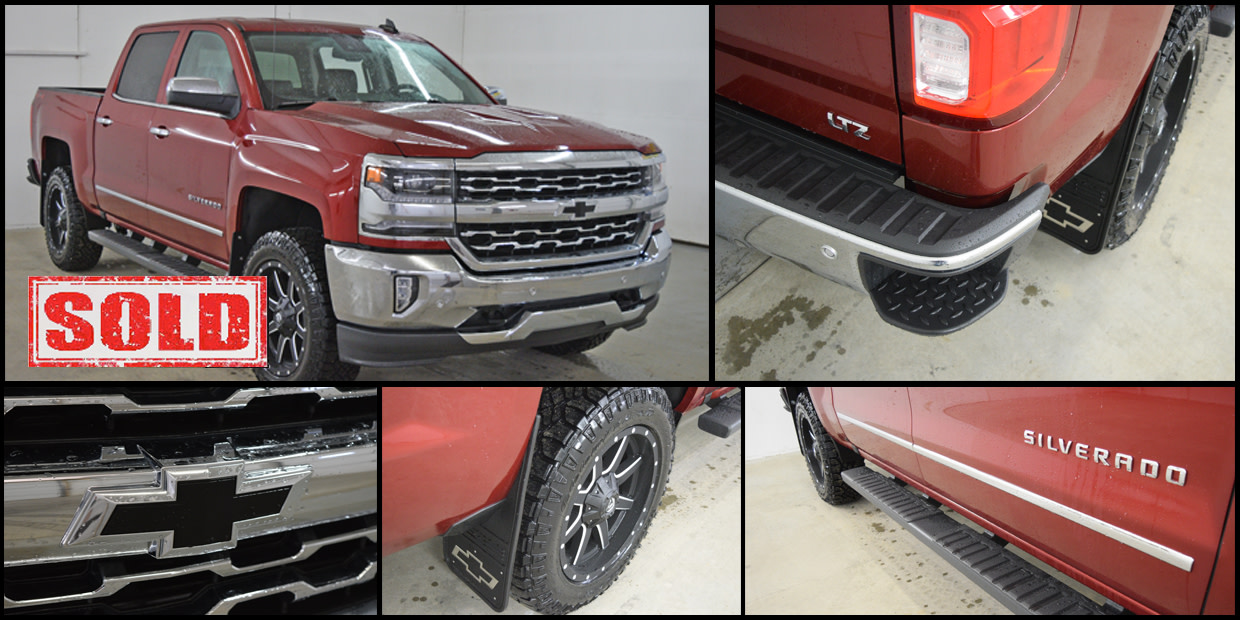 NEW 2018 Chevrolet Silverado 1500 LTZ
---
• 2" Lift Kit
• Fuel Maverick Rims
• Goodyear Wrangler Duratrac Tires
• Black 6" GM oval style step boards
• Black Bowties front and back
• Black Bowtie Mud Flaps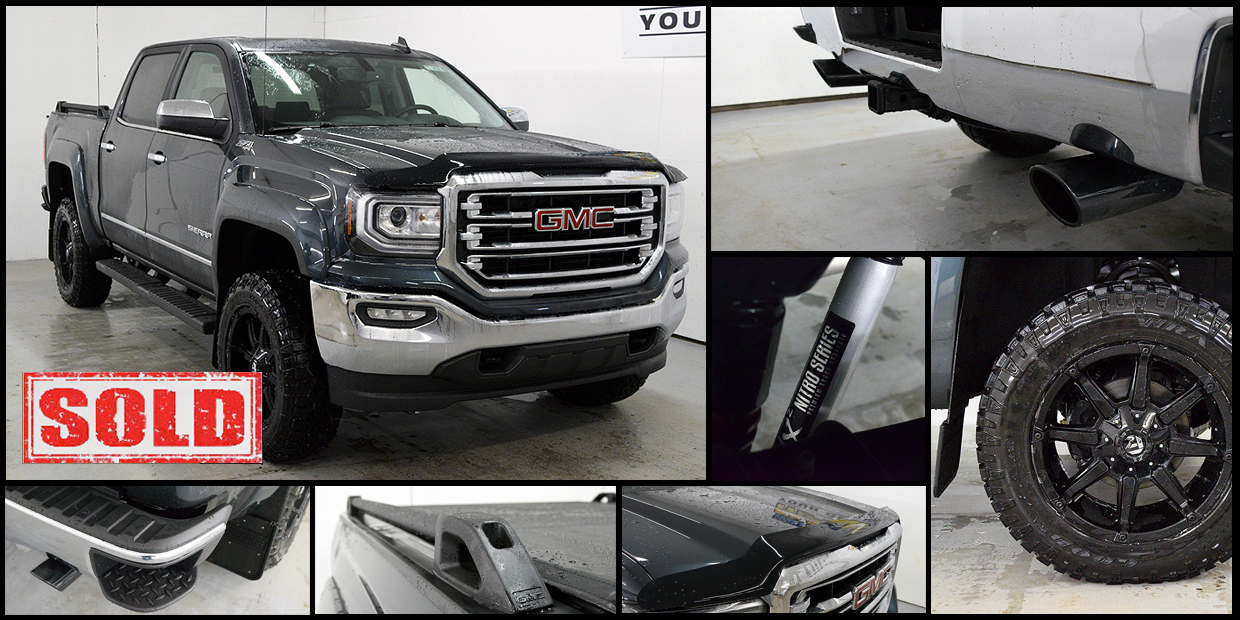 NEW 2018 GMC Sierra 1500 SLT
---
• GM black box rails
• Truxedo Cover
• Chrome offset mudflaps
• 4" BDS Lift kit
• Black 6" Oval Boards
• Goodyear Duratrac Tires
• Fuel Coupler Rims
• Sprint Booster acc mode
• GM Painted fender flairs
• GM Cat Back Exhaust System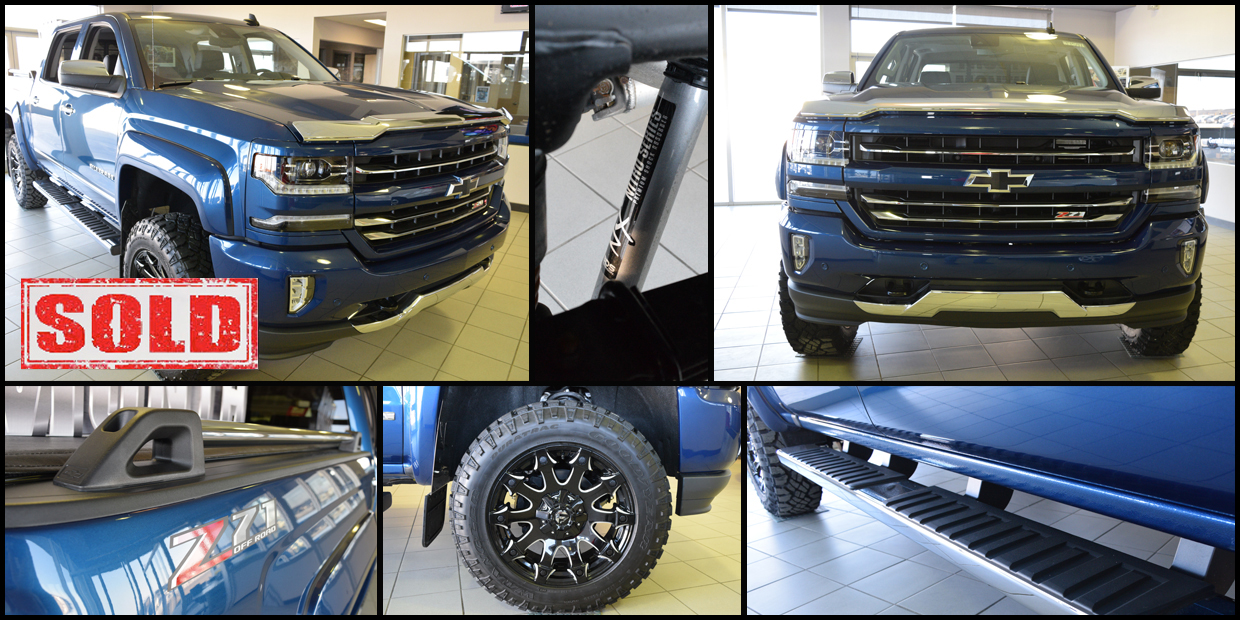 NEW 2018 Chev Silverado LTZ
---
• 4" BDS Lift kit
• Fuel Battle Axe Rims
• Goodyear Duratrac Tires
• GM 6" Chrome Tube Steps
• GM Chrome Bed Rails
• Truxedo Tonneau Cover
• Chrome offset mudflaps & Ex.Tip
• Chrome Molded hood protector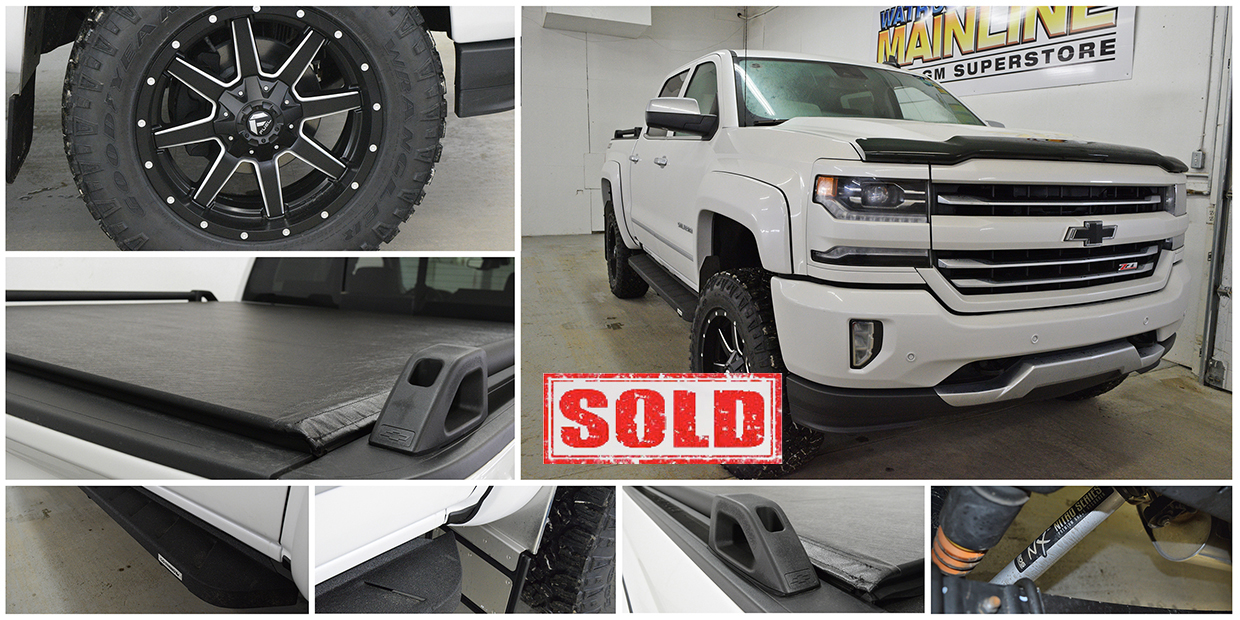 New 2018 Chevrolet Silverado 1500 LTZ
---
• Front Lighted Black Bowtie
• 3M Paint Protection

• GM Black Box Rails

• Truxedo Tonneau Cover

• Chrome offset mudflaps

• 4" BDS Lift Kit

• Smoke blk molded hood protector
• Go Rhino RB10 Boards

• Good Year Duratrax Tires

• Fuel Maverick Rims

• Sprint Booster Acc Mode Enhance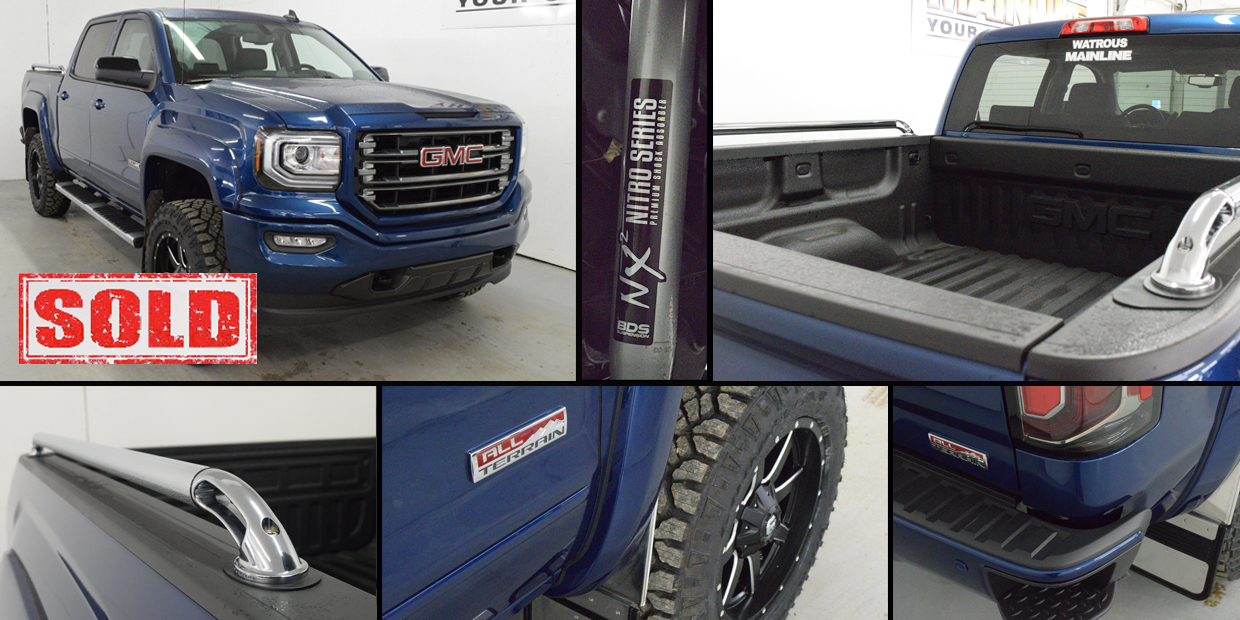 NEW 2017 GMC Sierra 1500 SLT
---
• 4" Lift Kit with colour matching shock boots
• Tailgate Light Bar
• 20" Fuel Maverick Rims
• Putco Box Rails
• GM Fender Flares
• Chrome offset flaps
• 6" Chrome oval tubular assist steps
• Good Year Duratracs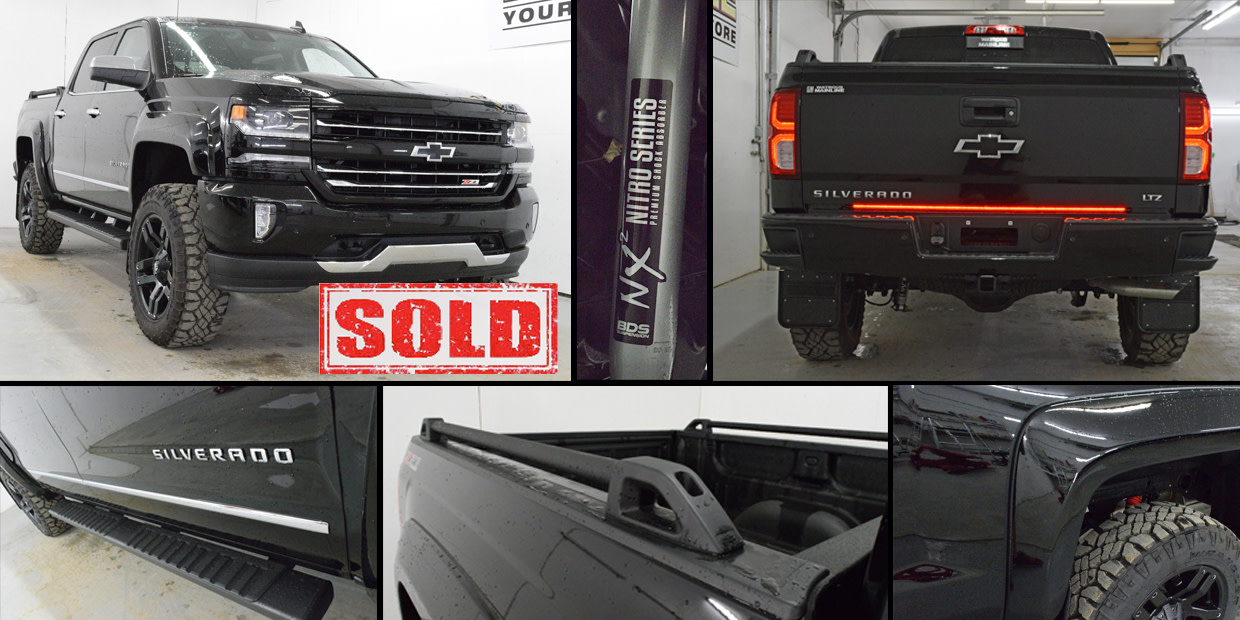 2017 GMC Sierra 1500 SLT
---
• Front and rear black bowties
• Tailgate lite bar
• Roughguard flaps
• GM Fender flares
• 6" Oval tubular assist steps
• 4" Lift kit
• 20" Fuel rims
• GM Box rails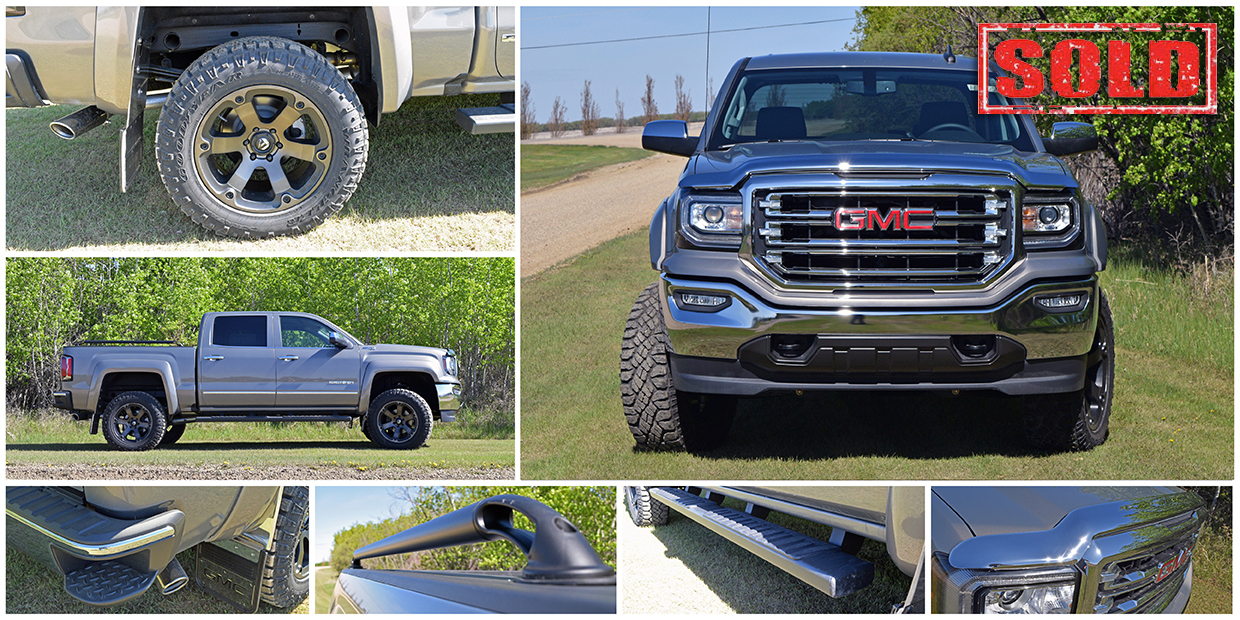 NEW 2017 GMC Sierra 1500 SLT
---
• Mudflaps with gun metal gmc plates
• 4" BDS lift
• 20" Fuel rims and all terrain tires
• Black box rails
• 6" oval black stepboards
• Chrome bug deflector
• Boxliner
• Weather tech front floor mats
• GM rear floor mat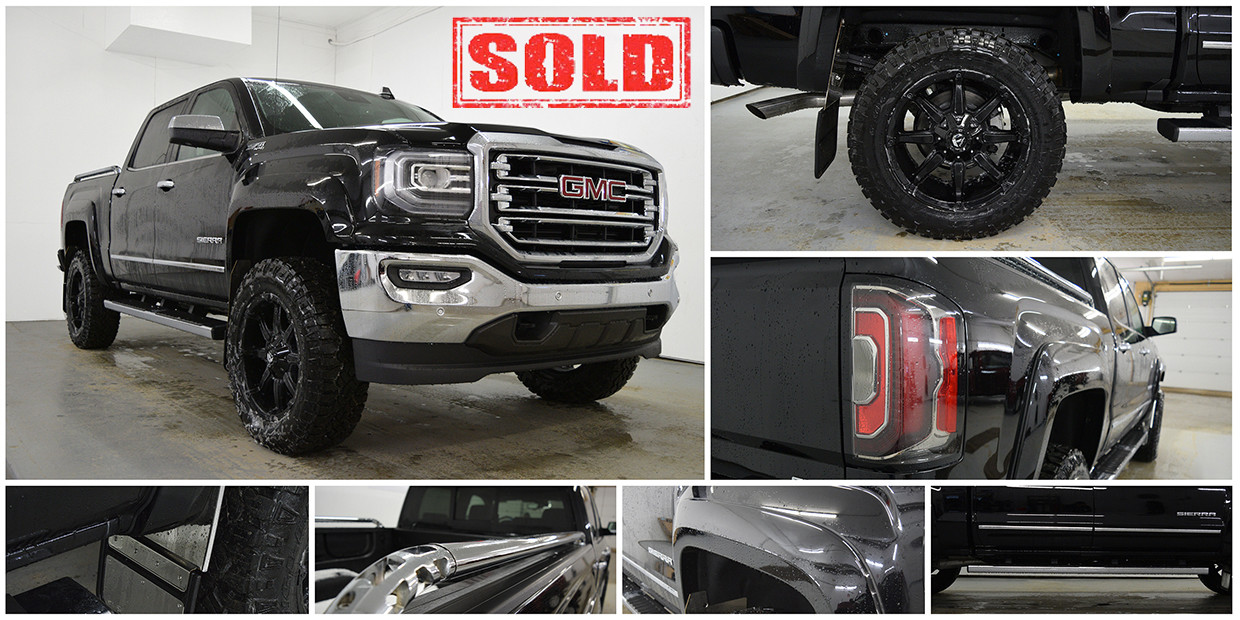 NEW 2017 GMC Sierra 1500 SLT
---
• Offset All Terrain Mudflaps
• 20" Rims
• 4" Lift Kit
• Bushwacker Fender Flares
• Chrome Box Rails
• 6" Chrome Stepbars
• Spray-on bedliner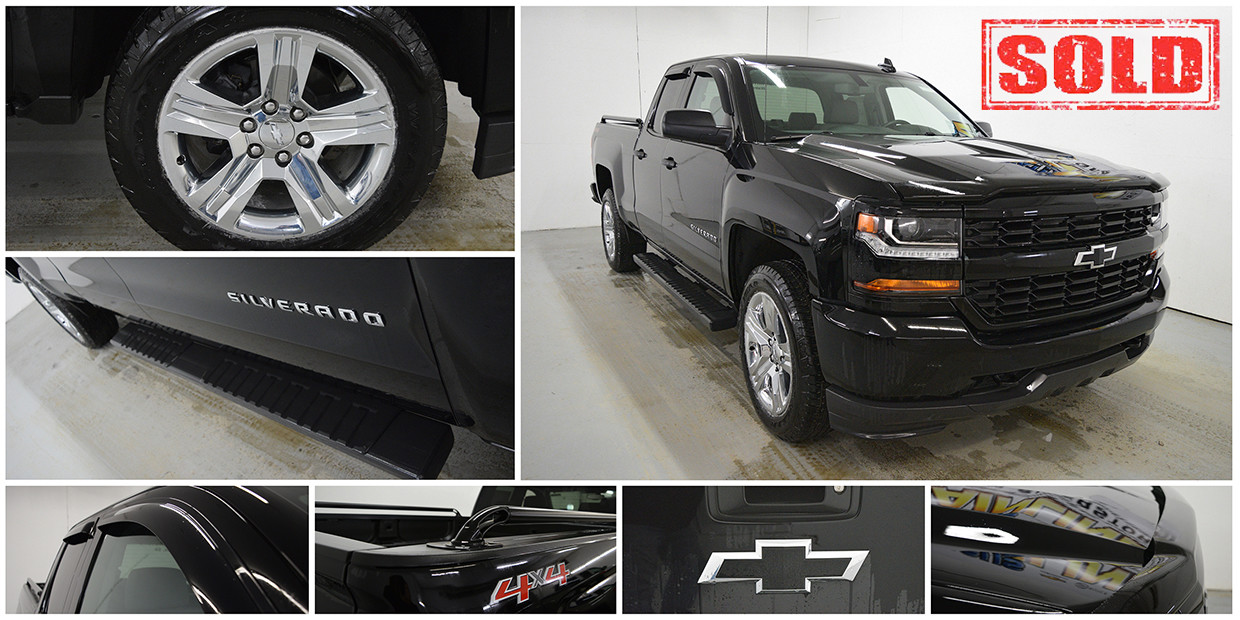 NEW 2016 Chevrolet Silverado 1500 Custom
---
• LPO Black Bow-Tie Emblems
• 20" Rims
• Black Box Rails
• Black Stepbars
• Spray-on bedline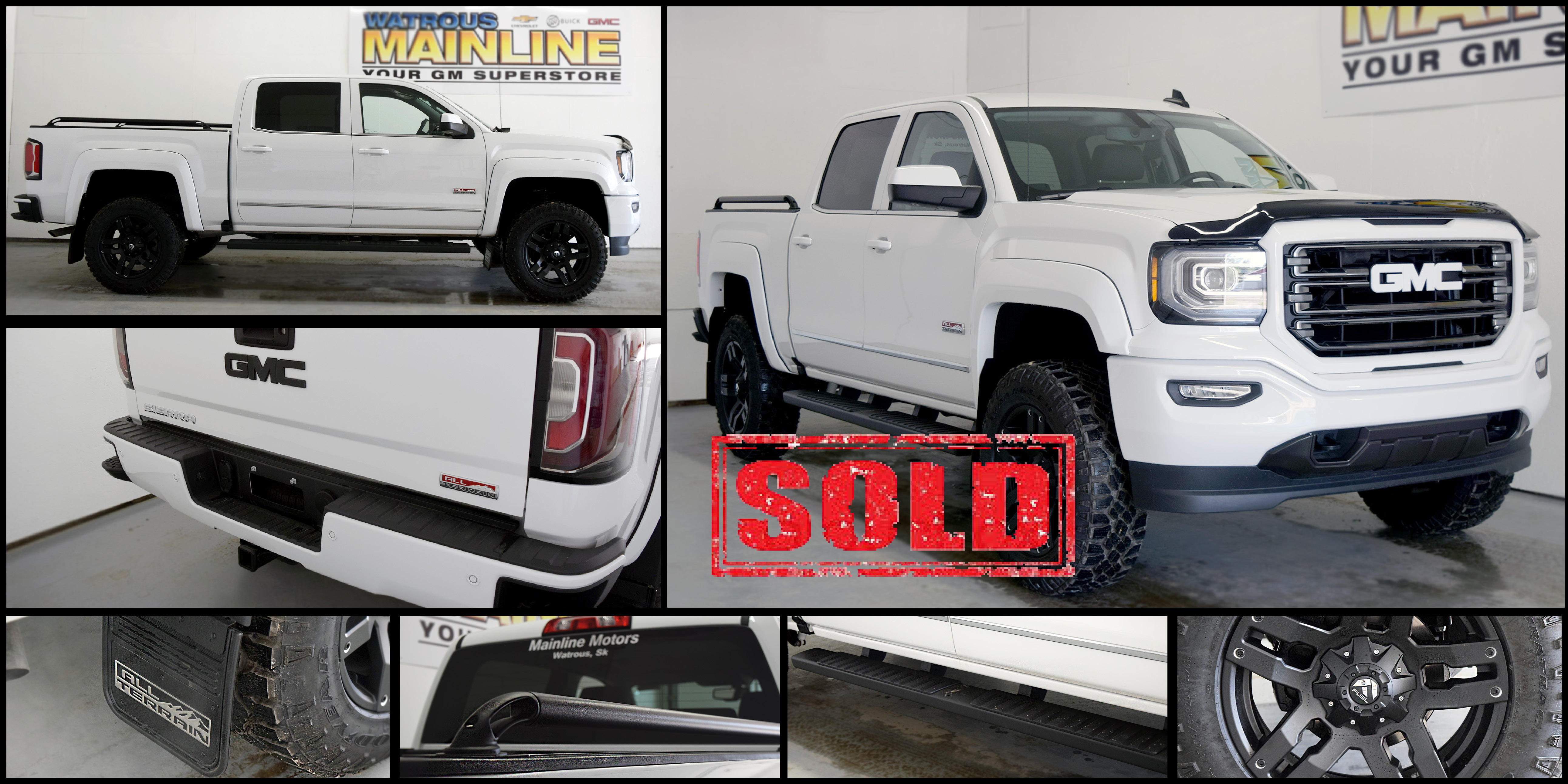 2016 GMC Sierra 1500 4WD Crew Cab
---
• Offset All Terrain Mudflaps
• 20" Rims
• 4" Lift Kit
• Bushwacker Fender Flares
• Chrome Box Rails
• Black and White GMC logos
• 6" Chrome Stepbars
---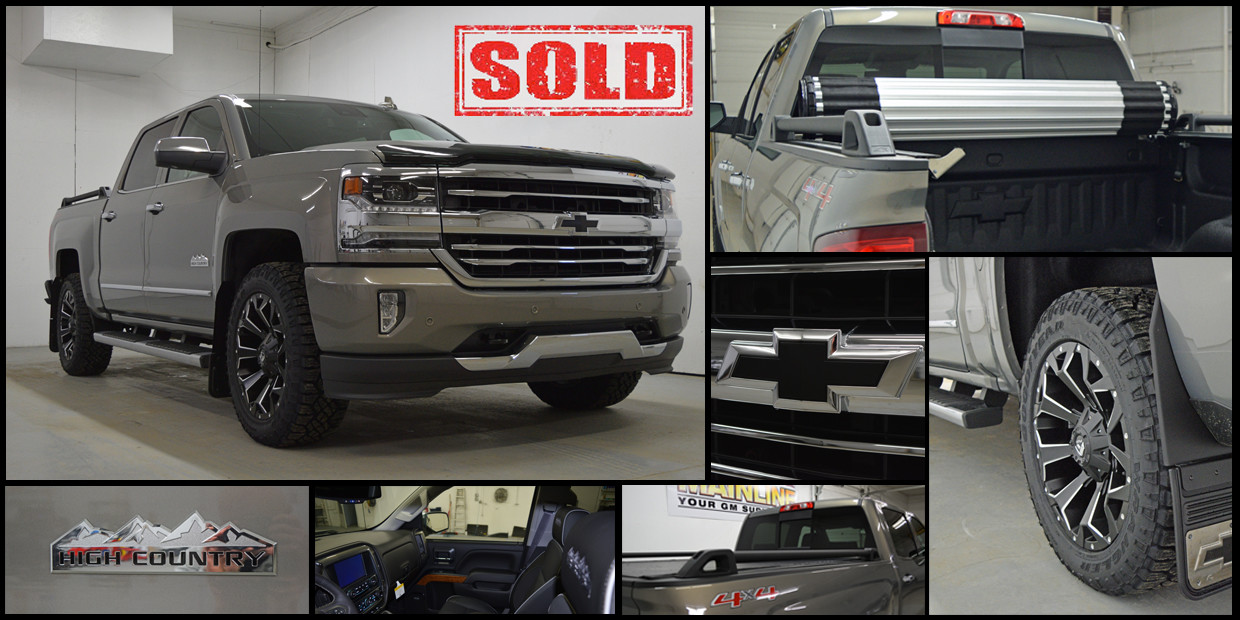 2017 Chevrolet
High Country
---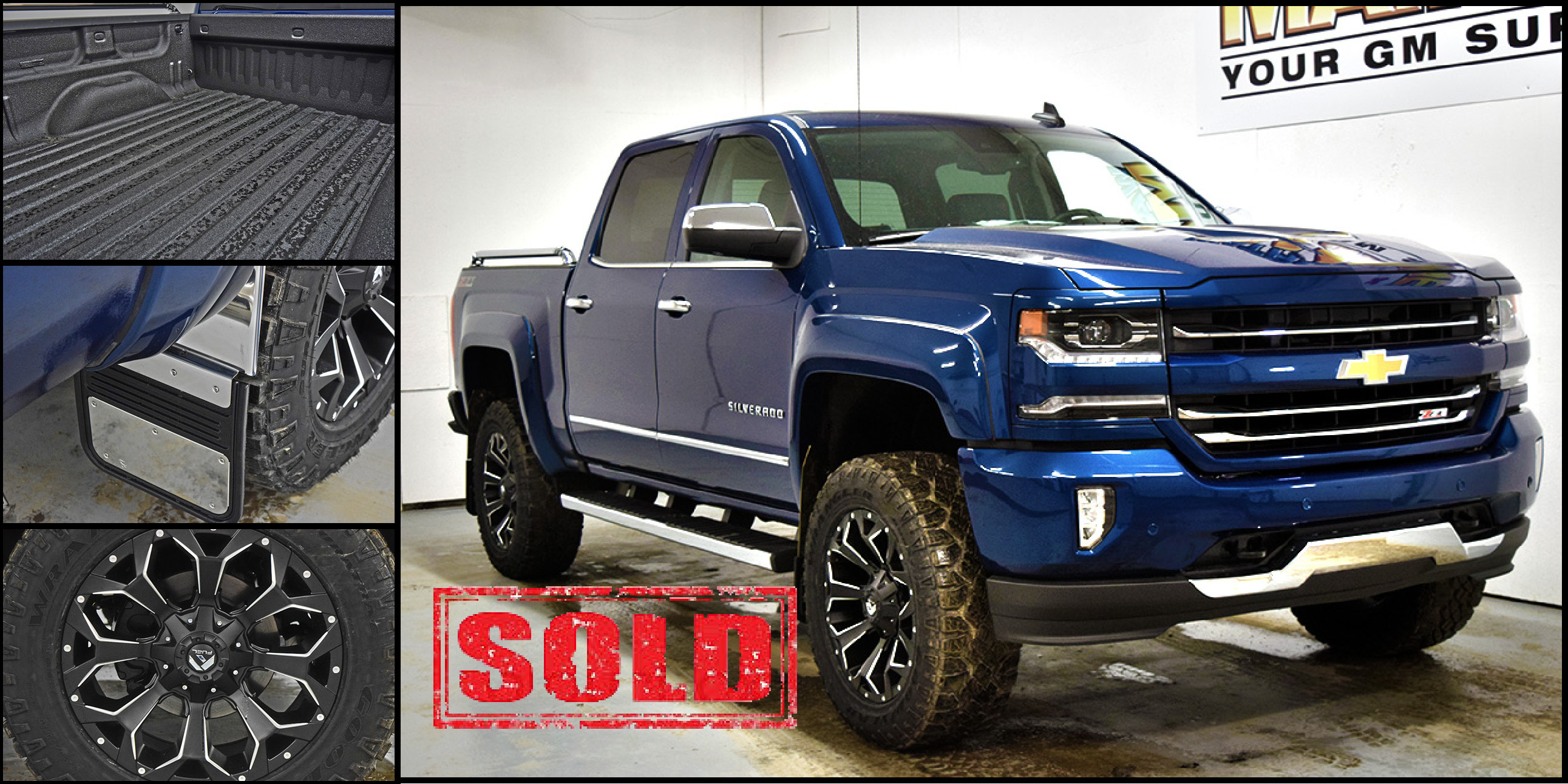 2016 Chevrolet Silverado 1500 LTZ 4WD Crew Cab
---
• Roughguard spray-on bedliner
• Fuel Rims
• 4" lift kit
• Chrome exhaust tip
• Gatorback mudflaps
• 6" oval, chrome stepbars
• Chrome boxrails
• Fender flares
---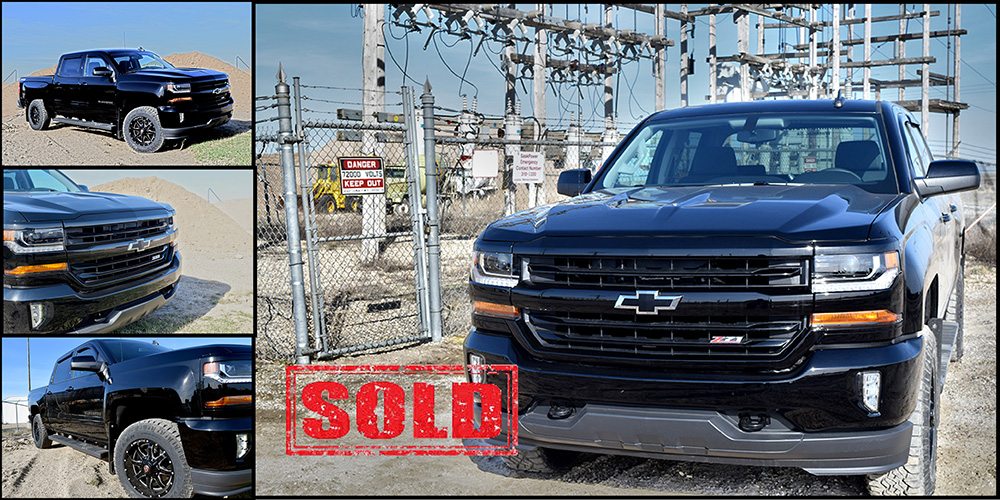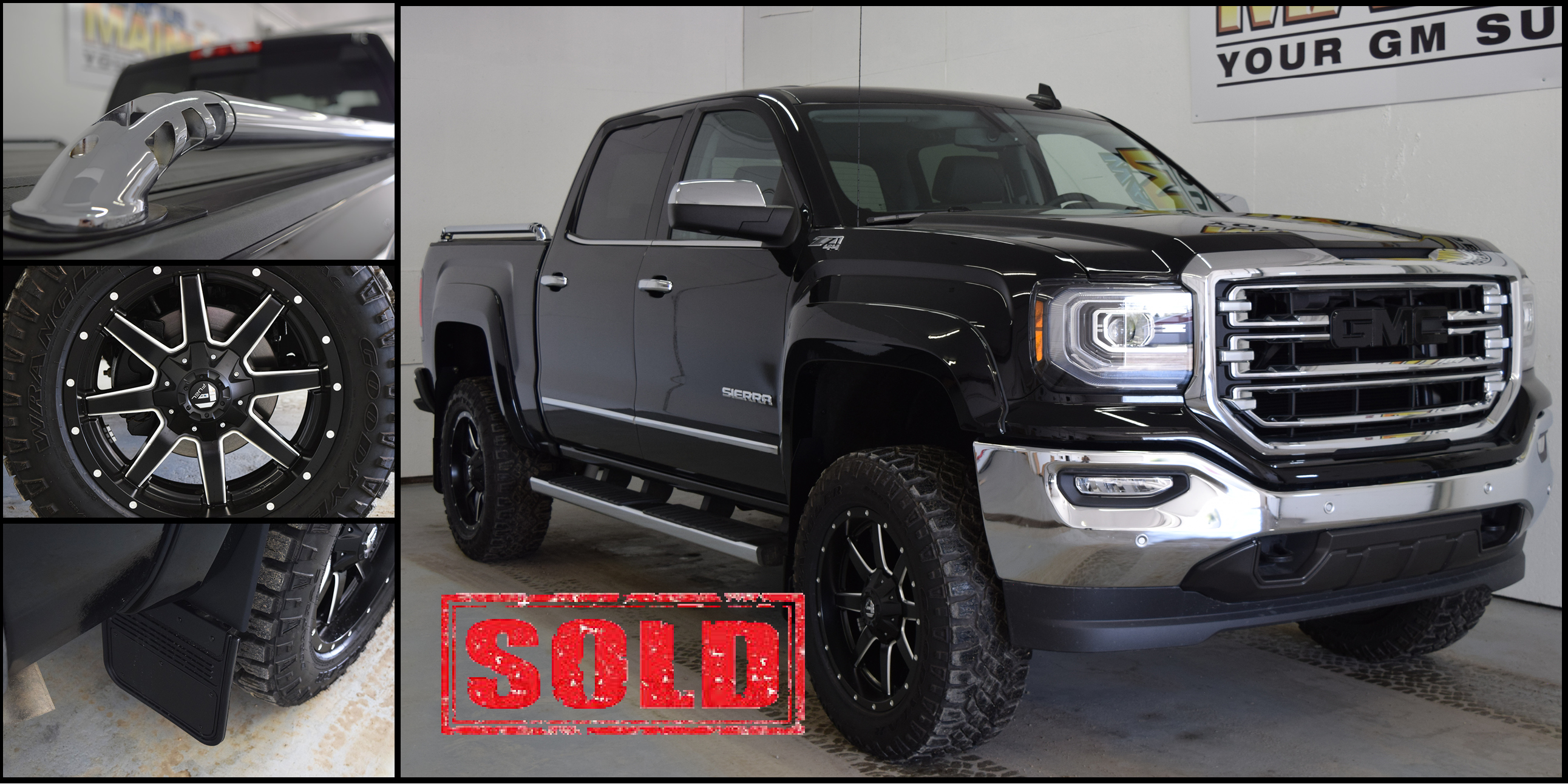 2016 GMC Sierra 1500 SLT 4WD Crew Cab
---
• Lift kit
• Blacked out mudflaps
• Lift kit
• 6" oval, chrome stepbars
• Chrome boxrails
• Black GMC logos
---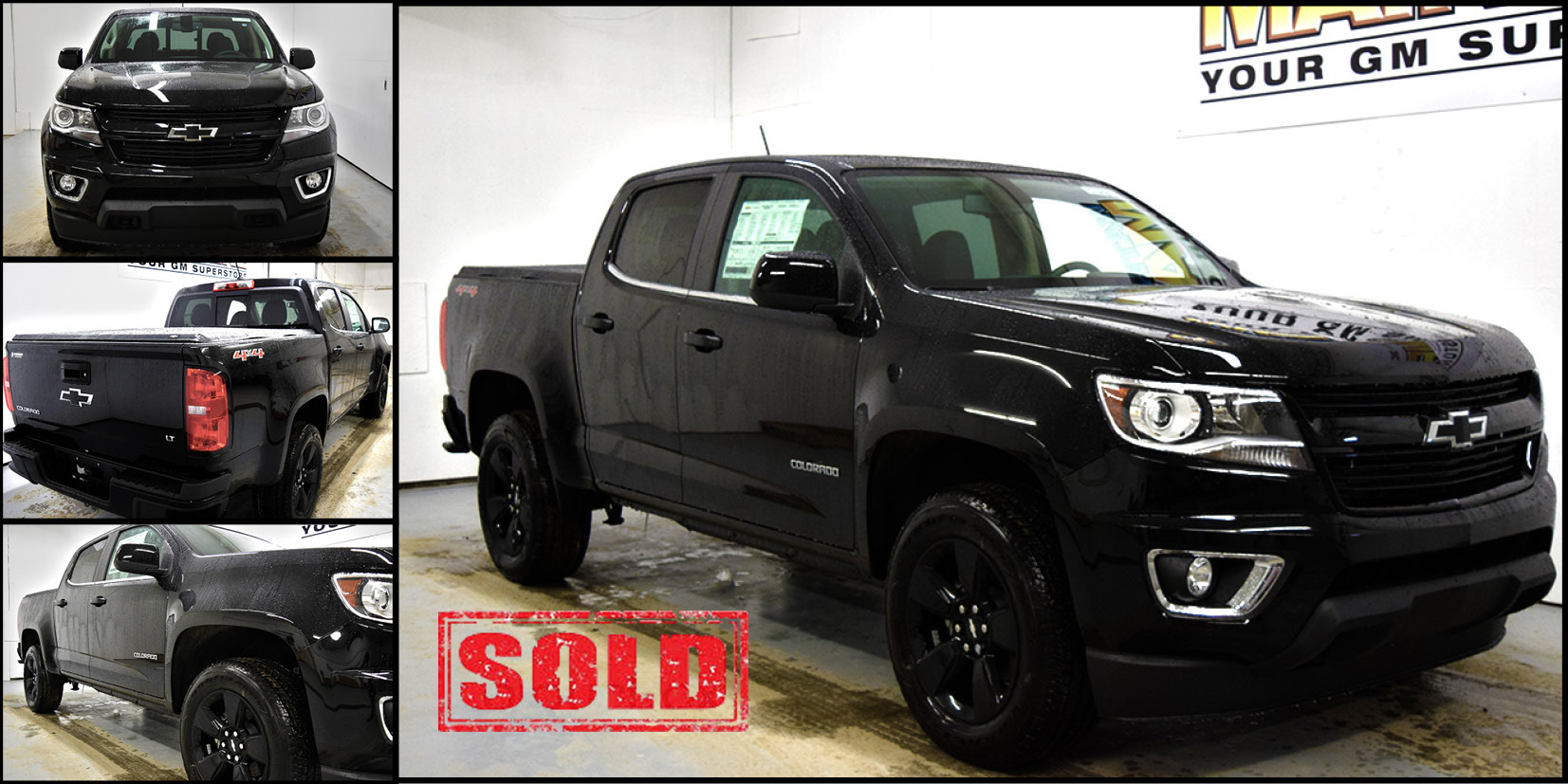 2016 Chevrolet Colorado LT 4WD Crew Cab
---