XPEL Premium Paint Protection Film near Regina, SK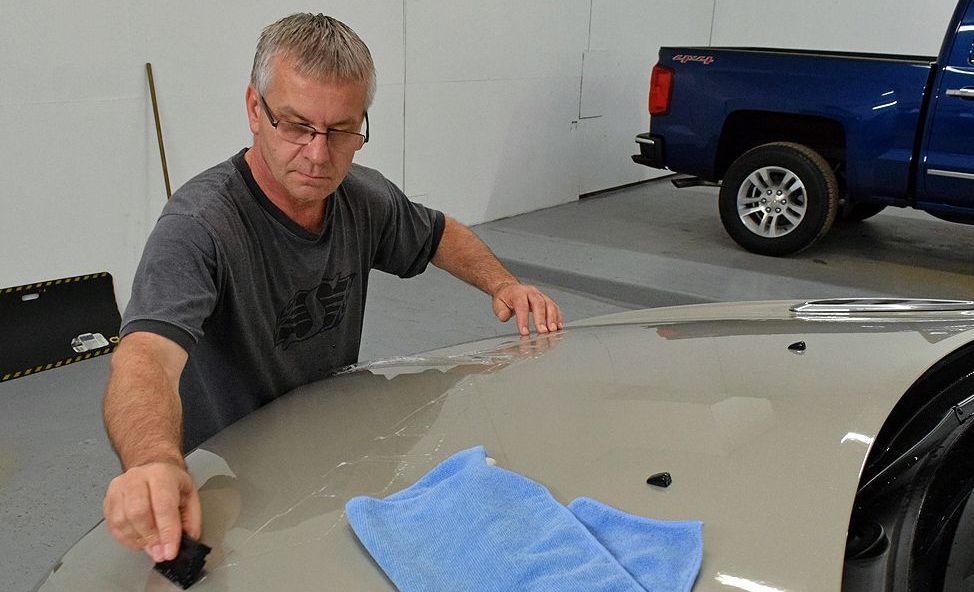 Auto Body Hours
(306) 946-2209
| | |
| --- | --- |
| Monday | 8:00 am - 5:00 pm |
| Tuesday | 8:00 am - 5:00 pm |
| Wednesday | 8:00 am - 5:00 pm |
| Thursday | 8:00 am - 5:00 pm |
| Friday | 8:00 am - 5:00 pm |
| Saturday | Closed |
| Sunday | Closed |
What's Protecting Your Paint Job?
When you buy a new or new-to-you truck, you want it to stay as pristine for as long as possible – but you and your truck work hard. To prevent nicks, bumps, and scratches, we at Watrous Mainline recommend our XPEL Premium Paint Protection Film. Done in-house, we can apply it and you'll be on your merry way in no time. Give us a call at 306-946-2209 to speak with one of our body shop techs today!
First, let's talk about how the application process is, and what exactly a paint protection film does. These clear or colored polyurethane films can be applied to any area of your truck that's vulnerable to the elements – we even have tailgate kits to protect your bumper. The process is highly individualized because each strip is hand-drawn and measured to you truck's exact specifications – this same individuality actually produces less waste, as well, so it's a win-win situation! XPEL Premium Paint Protection is best applied as early as possible to prevent any chips or dings from flying stone or anything else that can damage your paint job. Safely bonding to the painted surfaces of your truck, they offer up to ten years of guaranteed protection*.
You may have heard about issues with other films on the market, but you won't hear about those problems with XPEL Premium Paint Protection Film. The advanced method of film creation used in XPEL means that you won't experience any peeling, cracking, yellowing, or blistering that have become common issues with other protective films on the market. It also protects your truck against the perils of unpaved roads and jobsites. It's also 100 percent removable, so if you don't want it anymore, you can take it off without any damage to your factory paint. Visit us any time to speak about getting your own paint protection film and we can also recommend some of our other amazing services, such as the Roughguard Spray Boxliner! You can secure a time that works best for you and your schedule right here on our website using our Schedule an Appointment form. We're conveniently open Monday through Friday and are well-versed in Chevrolet, Buick, GMC, and many other manufacturers, as well!
Our XPEL Premium Paint Protection Film near Regina, SK, is just one of the many services we provide to increase the longevity of your pickup truck. To chat with us one-on-one, swing by our location at 208 1st Avenue East, Box 70, in Watrous, SK! Our top-notch customer service will make every visit enjoyable.
Reviews
I felt confident in my purchase!
May 10, 2017
Friendly and always helpful
April 7, 2017
Straight forward and easy
Saskatoon , SK
May 8, 2017
Well Done!
Saskatoon , SK
May 9, 2017
Everything was just great
Watrous SK.
May 3, 2017
Mainline treats everyone equally with dignity and respect
Saskatoon SK.
May 31, 2017
Second to none!
Watrous SK
May 31, 2017
Great customer service!
Saskatoon SK
May 29, 2017
Will Purchase from Mainline Again!
Moosejaw Sk
June 6, 2017
Welcome and Friendly Staff
Yorkton SK
November 30, -0001
Just was a good experience!
March 29, 2017
Worth The Drive!
Swift Current
March 20, 2017
All Was Good!
Martensville SK
March 29, 2017
Felt appreciated!
Moose Jaw SK
March 31, 2017
Comfortable
March 31, 2017
Great dealership.
Delisle SK
March 31, 2017
They let me win!!
March 31, 2017
Very Happy
November 24, 2016
Quality!
Regina SK.
January 4, 2017
Very helpful
February 13, 2017
Read More