Watrous Manitou Beach near Saskatoon, SK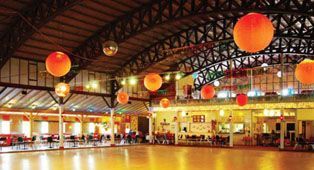 Sales Hours
(866) 839-9889
| | |
| --- | --- |
| Monday | 8:00 am - 6:00 pm |
| Tuesday | 8:00 am - 6:00 pm |
| Wednesday | 8:00 am - 6:00 pm |
| Thursday | 8:00 am - 9:00 pm |
| Friday | 8:00 am - 6:00 pm |
| Saturday | 8:00 am - 6:00 pm |
| Sunday | Closed |

Enjoy Everything that Saskatoon Can Offer You!
There's no reason that buying a new vehicle should be all work and no play – at least that's what your friends at Watrous Mainline think! We're incredibly close to one of the most exciting attractions in the area, the Watrous Manitou Beach, and you should definitely take advantage of this proximity. Whether you just want to take a weekend to relax and rejuvenate or are looking to get your blood pumping with some physical activity, Watrous Manitou Beach is the perfect location for both mindsets.
When you're surrounded by this many options for occupying your time, it may be hard to begin, but we do know one aspect of this beach that you have to experience: the water. Nicknamed the "Dead Sea of Canada," Little Manitou Lake has a mineral density that simply won't let you drown. Effortlessly float on this water and enjoy the curative properties that have been lauded since the 19th century. After you've taken a dip, there's a world of options available to you. If taking it easy is your goal, head over to the Mineral Spa. Having won the Business of the Year in 2014 by Tourism Saskatchewan, you can rest assured that they, and the recently renovated 102-room resort, will take ample care of you and your tired body.
That's not all Watrous Manitou Beach can offer you, though, not by a long shot. Get your groove on at Danceland, enjoy the Drive-in Theatre, or take advantage of the numerous outdoor activities, like Mini-Golf or Disc Golf. If you'd like to take in some of the rich culture of the area, you'll enjoy the Antiques/Flea Market and the Studio Trail, which guides you through a long list of unique studios in the surrounding area, showing off textiles, paintings, sculptures, pottery, and much, much more. To spice things up, take a walk over to the Last Mountain Lake Bird Sanctuary – it's the only one of its kind and hosts more than 280 species! Finally, if you'd like to take a hike on a pleasant, sunny day, the Wellington Park is where you should go. On top of hosting a beautiful backdrop for a peaceful walk, it also has fire pits, picnic tables, and a playground for kids!
Make the most out of your experience visiting Watrous Mainline when you go to Watrous Manitou Beach near Saskatoon, SK! You and your whole family will enjoy the endless options for activities – or non-activities – all within walking distance. Give us a call at 866-839-9889 to set up a time to secure you're new vehicle, and then take it to this amazing tourist attraction!
Reviews
I felt confident in my purchase!
May 10, 2017
Friendly and always helpful
April 7, 2017
Straight forward and easy
Saskatoon , SK
May 8, 2017
Well Done!
Saskatoon , SK
May 9, 2017
Everything was just great
Watrous SK.
May 3, 2017
Mainline treats everyone equally with dignity and respect
Saskatoon SK.
May 31, 2017
Second to none!
Watrous SK
May 31, 2017
Great customer service!
Saskatoon SK
May 29, 2017
Will Purchase from Mainline Again!
Moosejaw Sk
June 6, 2017
Welcome and Friendly Staff
Yorkton SK
November 30, -0001
Just was a good experience!
March 29, 2017
Worth The Drive!
Swift Current
March 20, 2017
All Was Good!
Martensville SK
March 29, 2017
Felt appreciated!
Moose Jaw SK
March 31, 2017
Comfortable
March 31, 2017
Great dealership.
Delisle SK
March 31, 2017
They let me win!!
March 31, 2017
Very Happy
November 24, 2016
Quality!
Regina SK.
January 4, 2017
Very helpful
February 13, 2017
Read More
Photos courtesy of http://www.watrousmanitou.com/